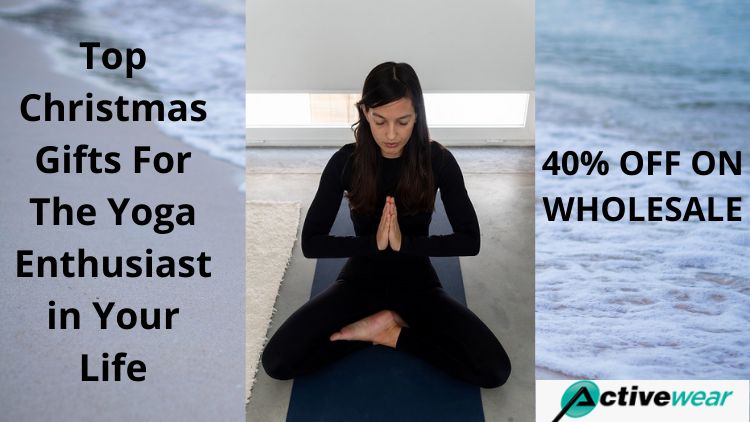 Top Christmas Gifts For The Yoga Enthusiast in Your Life
Christmas is oh-so-nearly here and it is the very time when you give gifts to all those special people in your life who hold a truly special place in your heart. If you have got a yoga lover in your life or someone who is thinking of starting then a gift related to their practice will be sure to get them stretching in style, firing their passion to remain active and have a great body.
During the lockdown last year, yoga classes looked a little different. While some yogis found plenty of group sessions online, others went on to follow YouTube videos while in their bedroom or lounge.
But wherever a yoga lover is or likes to practice, the basic requirements always remains the same. They need a good breathable top, yoga pants, a yoga mat, a decent water bottle!
Even if you see that your friend has got everything with them that they could possibly need for a yoga class, don't hesitate or think twice before buying them a "must-have" item as they might like to enjoy going with new, quality items and that too from a sweet, thoughtful friend like you!
If you are in touch with someone who's basically into yoga partly for relaxation and a change of nature then you can also think about a good positivity or self-care book for them. As yoga is for physical as well as mental well-being, an uplifting read in the form of such a book might be a great way for them to feel more comfortable after a dynamic flow.
As a business owner looking for wholesale top-notch quality, stylish fitness clothes, you should wait no more but reach out to only the best among the activewear manufacturers in UK!
So without waiting anymore, let's check out some great yoga items that you should be considering giving as gifts to your near and dear ones this festive season!
Trendy, Effective Yoga Clothes
A great cool yet relaxing yoga top is essential for doing a yoga session, something like an aqua blue yoga camisole. It will fit the bill perfectly as it will not just be stylish but highly comfortable as well. The color aqua blue will do good as it looks quite calm and soothing, very much eye-pleasing or something like a nice lemon yellow yoga bra which is another superb option here. The fabric should be made of cotton so that it is soft to touch and smooth to wear but, some lycra fiber should be cleverly blended as well to help it maintain its shape even after rough handling. Such tops will help keep the wearer remain relaxed and comfortable during warmer weathers.
Are you thinking of going for some bottom-wear instead? Consider picking grey textured yoga leggings or solid black tights as both are equally good for doing some tough yoga poses in them. All thanks to the use of a stretchable, lightweight and soft material called spandex in their construction, they become really a perfect option for your yoga lover friend! Another benefit of going for such yoga pants is that they cover your legs almost completely, enough to offer protection for poses where scraping skin against skin can be quite painful. Such bottom-wear will even boast of some great advanced features like zippered pockets where small items like keys, wallet can be easily stored! If you are a retailer reading this blog, thinking about how to get some functional, voguish activewear wholesale Australia then hurry and contact a noted activewear manufacturer now!
Comfortable Yoga Mats
To remain comfortable while doing some poses, a mat is essential for every yoga enthusiast. Do consider this getting as a gift for your yoga-loving friend especially if he or she generally works out of home and it is bound to bring a huge smile on his or her face. Usually coming in quite a range of colors like pink, green, blue, purple and perfectly textured, they bring ultimate comfort to the user. These days, the yoga mats are available in the market in different sizes. Some manufacturers even provide freebies with them like a nice carry bag so that it can be carried easily anywhere outside home, whether to the park or the yoga studio.
Functional Water Bottles and Gym Bags
All those difficult poses can be quite a bit demanding so by the time your friend finishes he or she will be in real need of a good water bottle. Think of going for not just a good looking but quality, functional water bottle as well— something like a reusable one! And while going out of home for a yoga class might seem like quite an easy job but it's still good to carry all the yoga essentials in a sturdy, durable gym bag, something which comes with advanced features such as multiple pockets, adjustable straps.
One of the top-rated workout clothing manufacturers in USA produces a vast catalog of mind-boggling yoga clothes! The collection of such a supplier is available in different styles, colors, prints, cuts and sizes!
Audio Version:- Click Here