Tips On How To Promote And Sell Your Custom Activewear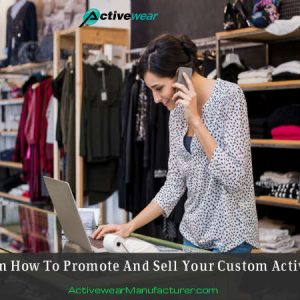 It is important to market your activewear clothing to let people know about your new venture. By applying a variety of marketing techniques you can make sure that the information is spreads through the right medium and to the right set of audience. If followed the right procedure and the current marketing techniques, then your brand will surely pick the interest of the target audience. Given in this blog are a few tips that will help you to promote your brand and sell the clothing successfully.
Create excitement leading up to your launch via social media, your website and newsletter marketing. Send visual announcements through a digital platform, let people know that a new stock has been introduced that is available in exciting offers. In the present scenario of marketing digital platform plays a very important role in inculcating the pros and cons of a product to the audience.
Keep the design of your products fresh. Manufacture new activewear and leisurewear seasonally, and offer complementary products like water bottles, towels, head wear, yoga bags, straps, and other interesting stuffs. This will help you to catch the attention of your customers as well as urge them to buy your new products.
During holiday season you can design and promote the products according to the theme of the holiday to create a buzz among the target audience. Keep all the products as limited edition as it will definitely create a rush among the people.
Create a hashtag by your company's name and post pictures on various social networking sites with those hashtags. Basically your objective will be to make these hashtags popular with repeated posting of pictures of your new products. In this way your brand is ought to get a lot of attention and shares in the virtual world.
You can promote the new custom wear by making studio owners, teachers of a school or university, management of a gym club wear it as a uniform so that students, parents or people in general will get to notice the newly launched apparel.
If your gym clothing is more on the trendy side, then you can organize a fashion show to showcase your products or co-host a fashion show with a designer to let people know about the new launch.
The above guidelines are provided to the retailers to get an idea about how your products should be marketed. You can purchase bulk products for your brand from custom wholesale activewear manufacturers by shooting a mail to the customer care team of one of the best activewear wholesalers. You can request a quote based on your needs and also avail some good discounts on your bulk order.