Remember These Seven Useful Tips To Buy The Ideal Compression Tee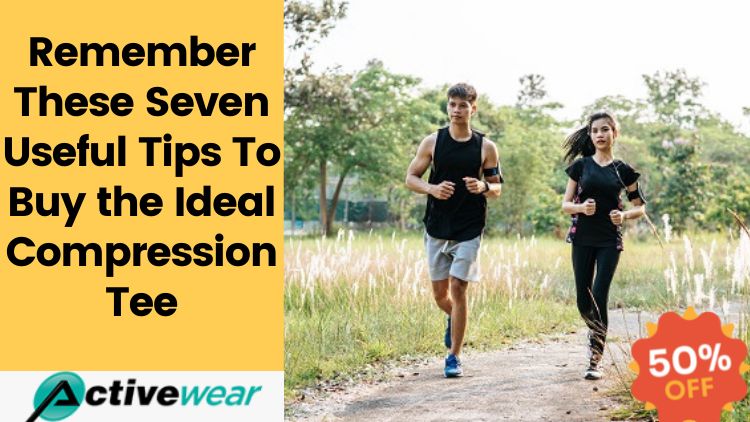 Wondering what it is about a compression tee that so many people are opting for it? Well, among the wholesale activewear, a compression t-shirt is a versatile addition to your closet, ideal either as a sleek, fitted overshirt or as an undershirt. The right compression tee offers you plenty of support, shaping your torso for a more flattering and pleasing look.
Read On To Know How to Pick and Wear Compression Tees that Will Keep you Comfortable and Cool.
What Exactly Compression Wear is?
A collection of garments that are made of materials, designed to stretch for fit, providing pressure against your body is compression wear. For the additional support that it gives to muscles and the faster recovery time it offers after strenuous exercise, athletes commonly wear this type of clothing. Some people go for compression wear as it helps in their medical conditions such as gynecomastia, inoperable hernias or to aid postpartum recovery, while some people choose it, simply because of its beauty.
A compression tee can be worn for a variety of different reasons. The material in a short sleeve compression tee, unlike other regular t-shirts, works to flatten curves and bulges, while offering the tight, toned lines. This can offerthe appearance of smaller love handles, leaner looking tummy, minimizing the chest area. One of the most top-rated activewear clothing manufacturers brings an amazing collection of comfortable, breathable compression tees!
Choosing the Compression Tee
When you are going for a Compression Tee, Make Sure To Remember These Points.
Find the purpose. Ask yourself why you need it.Whether you are looking for relief from the discomfort of a medical concern, additional activity support or you just want to look more like yourself, the compression tee will surely be the perfect choice for you.
Areas in Need of Compression Suppo
In order to fulfill the garment's purpose, see which parts of your body need to receive compression. For example, if you just want to flatten extra chest tissue, a full-length compression tee may not be needed. But if you need help with a spare tire, while you have a flat chest, then you might be more comfortablein a tee that only works to tone and flatten your midsection
As long as you are comfortable, there is no wrong way to wear your compression tee. While some choose a short sleeve compression tee as their gym wear, others will rather keep their compression gear a secret by wearing it only under clothes
It is essential that your compression tee offers you a sufficient amount of compression to control curves or bulges. Some compression tees will use several layers of compression material to develop a stronger panel for issues, so as to give additional support.
From tank tops to long sleeve compression tees, there are different types of compression tees. While there are tees with deep cut V-necks, there are those with a standard crew neck. If you are planning on wearing your compression tee under your clothing, make sure to pick a style that will be conveniently hidden under your clothing,and for that, no long sleeves of course.
If you are someone who wants your compression tee to be comfortable, remember, comfort is the seams of your short-sleeve compression shirt. Always make sure to look for seams that lay flat so that they don't create any pressure points of discomfort under your clothing. Minimize the bunching of the garment under your clothing. When you see that the armholes are cut nicely to allow free movement, you know that your compression tee will not just make you more comfortable but will also limit the likelihood of the underwear seam.
To provide the right amount of stretch and compression, most compression tees are a blend of nylon and spandex but the ratio can vary. Blends with the higher nylon content may or may not stretch less and offer firmer
compression, depending on the settings used during the knitting process. Based on the knit settings and whether or not the final product is meant to provide 2 or even a 4-way stretch, tees with more spandex may stretch more, but provide a less firm feel. For giving maximum shaping and support, some t-shirts may use non-stretch panels made of nylon. A breathable option with a soft and luxurious feel is cotton.
Retailers and business owners with the wish to revamp your stores by getting hold of stylish wholesale activewear, hurry and get in touch with a notable activewear manufacturer in USA today! Check out the wow-worthy catalog and make a bulk purchase now!
Audio Version:- Click On