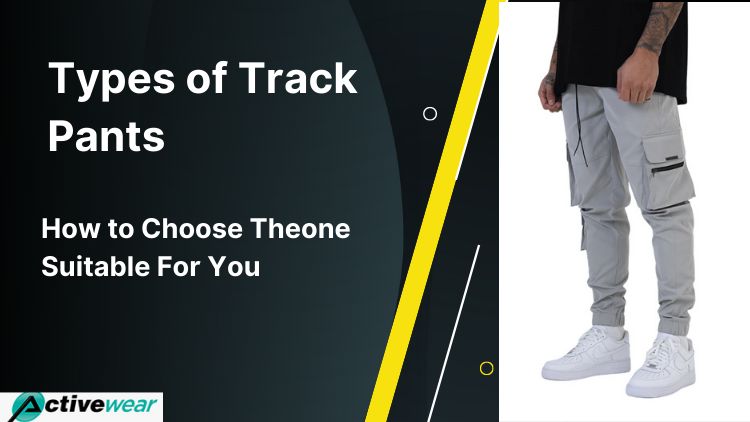 Types of Track Pants and How to Choose Theone Suitable For You
Activewear is the most cherished attire for every fitness enthusiast. But, the most confusing part is choosing the one that fits and suits you the most, especially when tons of options are made available by reputable wholesale activewear suppliers these days. Though people don't face many problems in selecting tees, hoodies, or jackets, finding a pair of good track pants often becomes an issue.
Going for the correct track pants is essential, as it not only affects your look but your comfort level as well. They are available in various fittings and lengths from which you can pick the most suitable pair for you.
Different Types of Track Pants
Given below are some of the most trending types of track pants that are often chosen by both women and men for their exercise sessions.
The Moisture-Wicking Nylon Track Pants
The nylon track pants are very much in demand. The thermoplastic silky material is usually crafted from petroleum and comes with different property variations. The fabric is durable and strong, and this is what makes them ideal for high-intensity workout regimes. The nylon track pants are lightweight, breathable, and offer a fresh feeling to the wearer. They are also found in different designs and colors.Coming with moisture-wicking ability, they are perfect for hot and bright summer days.
Spandex Track Pants For Easy Body Movements
Lycra or spandex is a synthetic fiber. The spandex track pants are often favored for the elasticity they offer. In fact, whenever it's about activewear for any kind of stretchable activity or exercise, then the spandex track pants are mostly chosen. The fibers enhance the pants' pressure comfort and this leads to flowing body movements.
Cool and Casual Ankle-Length Track Pants
Most women like ankle-length track pants nowadays as they offer them a taller and slimmer look. Men also prefer such track pants, whichgive them a comfortable feel all day long. During yoga and stretching exercises, the ankle-length spandex colorful track pants are often seen worn by many women. These skin-fitting, narrow track pants are great for any body shape and they don't require any particular size. This is also a reason why they are so popular.
Stylishpolyester Track Pants
The fashionable track pants are mostly constructed out of polyester, and while sometimes they feature color combinations, sometimes they are available in multiple prints and patterns. These stylish polyester track pants are absorbent, durable, and lightweight and they keep the wearer fresh, comfortable, and happy throughout the day. Tank tops, stringers, or tees, anything can be paired with these track pants.
How To Choose The One
Make sure that you consider the occasion while choosing the track pants. While the polyester and nylon track pants are good for gym and yoga, the stylish polyester and ankle-length track pants are good for casual days. But then, of course, the final choice is up to your own personal preference.
Are you a retailer in immediate need of stunning wholesale clothing sydney to add to your fitness wear collection? Hurry! Connect with a famed activewear manufacturer now!