Running Bra: How To Go For The Ideal One?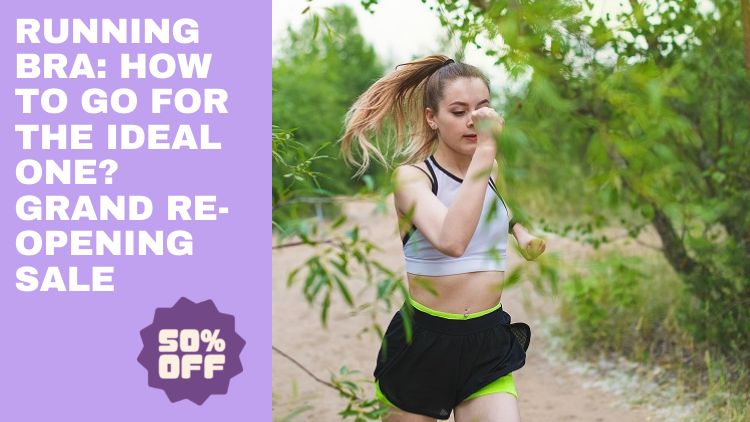 Especially during long runs, wearing the right running bra is critical to your comfort. Since running is a high-impact sport, the bra you choose for running can be quite different from the one which you go for the cross-training days. The running clothing manufacturers today make available plenty of options in different styles, cuts, colors, prints. If you want to get the perfect running bra, read on.
Why You Should Go For a Running Bra
Throwing on a bra that properly supports you while you run can not only pull on the supportive tissues of your breast but can also prevent any discomfort. Bras that are not designed for running can lead to chafed, sore skin and might not fit you properly. Running bras are typically constructed of sweat-wicking materials that apart from keeping you cool, allows your skin to breathe, while you remain sweat and smell-free.
Depending on your size and needs, you should be choosing the running bra for yourself. For choosing a quality running bra there are several strategies.
Make Sure That You Shop in Person
It is essential that you try on the running bras for the comfort and fit. Make sure you shop from a reliable store as they will have good quality high-impact sports bras that are designed especially for the runners. Wherever you buy it from, just see to it that it is a high-impact bra. Especially if you have large busts, any regular sports bra won't be able to provide you with the right support.
Try On Various Sizes
Ensure to try on several different running bras as the right size for you may not be the cup size which you usually wear. If you see the material wrinkling or bunching then the bra is too big. It should be such that it fits you snugly but it should not constrict your breathing. It is too small if the bra is cutting into your skin or the breast tissue is spilling out of the sides or back. It is a good fit when you can slide two fingers under the straps.
If you still want some additional tips on signs of a poor fit then keep these points in your mind:
It could mean that the bra is too loose or stretched.
Straps digging into shoulders or moving
If you find the straps moving around then it indicates that the bra is too big while if you see it to be digging into your shoulders then it is just too tight for you. Check for band sizes and adjustable straps.
If you feel like you are having a pain in your breasts as soon as you wear it or you feel too suffocating or there is a back ache then it not supportive enough for your cup size. It means that you need a different size or a more supportive material.
When the band is not staying in place
If you find the band is riding up then the bra is too small. It could be too big if it moves around too much.
Choose The Right Cups and Straps
Look for running bras with wide shoulder straps, which are more likely to be adjustable as well as padded and will be good for you if you have a large bust and need a lot of support. When you go for a wider strap, it will also help distribute the pressure more comfortably. You can also consider going for an "encapsulation" type bra which has individual cups for each breast and which you might find to be more comfortable! Additionally, if you have a large bust then you will be more comfortable with a bra which comes with a clasp as it will again be more adjustable. A pullover style is great for smaller breasts.
Go For The Right Fabric
Look for moisture wicking fabrics such as Dri-fit for comfort and chafing prevention. Though a cotton bra might look tempting but it is actually not good because once you start sweating, they will stay wet!
Check the Underwire and Seams
Make sure to examine the seams of the running bra you are trying on. In order to help prevent chafing as much as possible you will want seamless fabric, seams with rolled edges or covered seams. Check that the underwire is completely covered so it will not gouge your skin if you prefer bras with underwire.
Retailers and business owners with a wish to grab quality, attractive wholesale activewear should wait no more but immediately get in touch with a renowned activewear manufacturer in USA today! The colossal catalog of such a supplier is really something!
Audio Version:- Click Here