Flared Leggings vs Yoga Pants: Whats All Thefuss?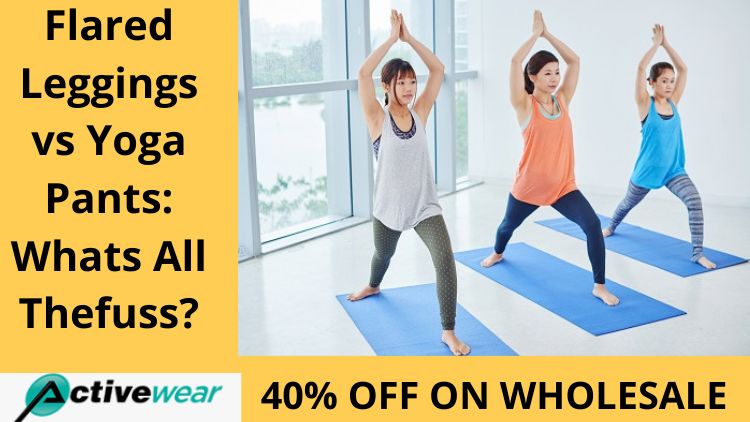 Like the soft and comfortable feel of yoga pants? Well, there's no doubt that yoga pants have a remarkable stretch and flowy characteristic that makes sporting them a wise choice for carrying out various yoga postures conveniently. But, did you think you may have to call your good old yoga pants "flared leggings" someday?! Well, the way things are going, you may or may not have to. As a business owner excited to upgrade your yoga clothing collection, you must connect with a revered activewear manufacturer Australia with a huge yoga clothing catalog. This will help you procure comfy yoga pants of exceptional fabric texture.
How Did the Controversy Between Yoga Pants and Flared Leggings Rise?
Well, the recent fuss over this particular fitnesswear emerged when popular vlogger Emma Chamberlain tweeted her desire for the comeback of retro-style yoga pants which she referred to as "flare yoga pants". This created an immediate buzz among netizens with further boiling of the matter as Chamberlain posted a photo on Instagram of herself in a laidback sweatshirt and yoga pants/flared leggings.
And finally, things took a serious turn when stylish yoga pants became a TikTok craze under the new name of flared leggings. While many are disliking the referring of yoga pants as flared leggings, there are several youngsters who are feeling inspired to try out this style as the name of flared leggings seems to be cooler to them. The functionality of yoga pants lies in its broad waistband and exquisite crafting to make it as much loose and comfortable as possible without compromising on fitting. Though the design of this workout wear remains the same, heated tweets and arguments about the difference in terminology have become a sensational news of the internet world!
Going Beyond Name and Recognizing Wear Efficiency
This ongoing clash between one party rooting for classic "yoga pants" and the other supporting the coinage of "flared leggings" ultimately has done one good thing. And that is it has sparked the comeback of this fashionable fitnesswear in modern times. Who cares about name anyway when yoga-enthusiasts are appreciating the style and comfort factor of this fitness apparel?!
Being a retailer looking for trending yoga pants, you should contact one of the top-notch activewear wholesale vendors. Such an esteemed manufacturing unit is sure to offer you stylish and comfortable yoga pants in lively colors and designs to spice up your fitnesswear collection.
Audio Version:- Click Here