Can I Really Wear Yoga Pants Everywhere I Go?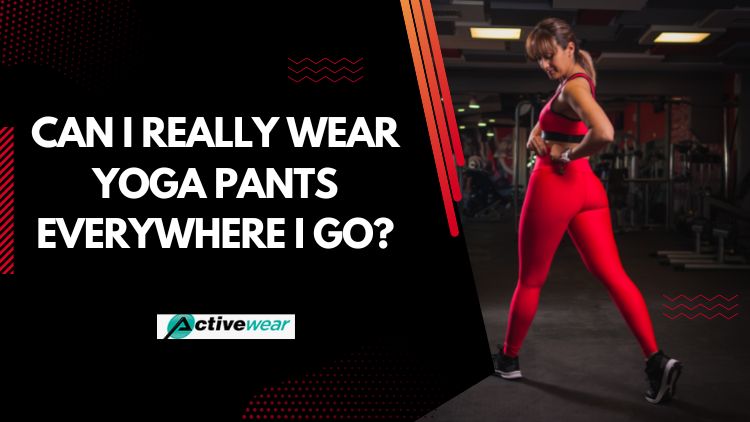 No matter where you stay, you will find women wearing yoga pants more outside the gym than they wear inside. These days, yoga pants have almost taken the place of jeans. Shopping every time, most ladies get several new pairs. Right from malls to grocery stores to Starbucks, they can be spotted everywhere.
If you are wondering, ''is it really okay to wear it outside?'', ''what if what I am wearing isn't in fashion?'', ''what if my style is looking sloppy rather than trendy''? make sure you read the blog till the end.
In Trend Presently
Activewear trends, especially yoga pants are very much 'in' right now. Not only it's pretty convenient to find them but they make you look uber-stylish when you wear them appropriately. Reputable yoga clothing manufacturers have made them available in a large variety of styles and colors. Doesn't matter what your style is, they make it comfortable yet form-flattering for you. They should be your very go-to pants as they work well to make you look great in them. Created to keep you covered minus any irritating riding or gapping, they hug your body in all the right places.
Don't worry about your look as yoga pants being versatile can be paired with anything. Whether it's jackets, blouses, or tees, you can never go wrong.
So, can I…?
Of course, it's okay to wear yoga pants outside. It's just that, if you are going to do it, then do it right. They might give you an impression like ''wear me and get going'' but it's not really that simple. It's important to wear them properly.
The number 1 rule here is to see that they fit you well. You don't want to appear in anything that's way too tight to even move or worse, displaying your panty lines. They should either come mid-waist or high-waist, nothing too lower than that. Remember, they are basically created for your comfort so ensure that yours allow you the freedom of motion. Your yoga pants should be such that by wearing them you can do anything without you needing to adjust them every now and then. If you see that it's not happening then know it's not the right fit for you.
Grab those yoga pants that are constructed out of thick fabrics but are lightweight. You don't want yours to look sheer, do you? People not being able to figure out your underwear color is how you should wear them.
Go for the right accessories always. Keep in mind, when you are opting for yoga pants, you should look perfect from head to toe, (of course, i.e if you want to appear in style). Choose between simple sandals, ballerina flats, or tennis shoes.
Lastly, Yoga Pants Can Be Casual or Athletic, they Can NEVER be Dressy.
Being a business owner or retailer eager to lay your hands on the latest wholesale sportswear, make sure you reach out to only the most eminent among the sportswear companies in Canada! Such a manufacturer offers smooth customization options as well!
Relevant Blog:- Flared Leggings vs Yoga Pants: Whats All Thefuss?