All About The Fabric of Modern Compression Wear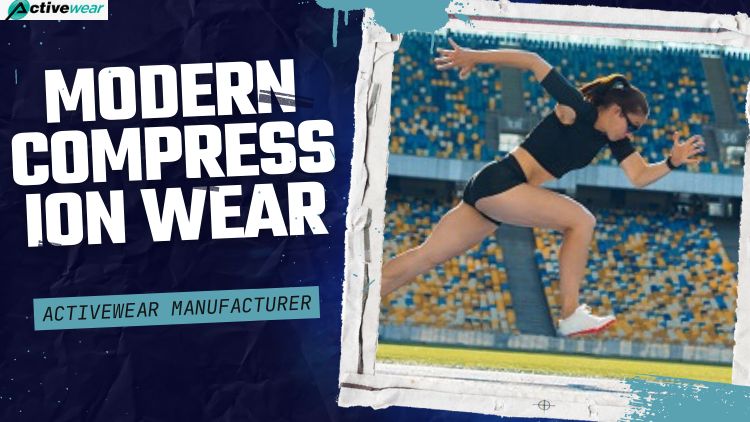 Unlike other materials which are designed mainly for the purpose of fashion appeal, compression fabrics are created specifically as fitnesswear or to be worn by those suffering from health conditions. Of course, everyone can wear them but this technical fabric has certain advanced attributes that make compression clothes for both men and women the perfect activewear to workout efficiently. If you're a private label business owner, eager to stack up compression clothing, do collaborate with a reputed fitnesswear supplier, equally noted as the best among womens activewear manufacturers.
What Exactly is Compression Fabric?
The fabric used for crafting compression garments is a stretchable yet tight-fitting one that comprises of nylon and spandex threads. Nylon increases the functionality of compression wear while spandex improves their elasticity. Few pieces of compression tees, pants, shorts and other fitness apparel of this kind are made up of 25% spandex that enhances their stretchability to a fantastic level.
The combination of nylon and spandex fibers create an exceptionally durable and lightweight texture of compression clothes. The technologically advanced designing allows compression apparel to improve blood circulation and functioning of muscles by increased flow of blood back to your heart. As an athlete, you can bank on compression fabrics to workout comfortably as this high-tech fitnesswear will speed up muscle recovery and offer maximum functionality while lending you a stylish look.
How the Material of Compression Clothes Work?
Activewear constructed using compression technology generally has a tighter end and a looser one. The looser end that's worn nearer to the heart helps in stimulating blood flow while the other end is distant from the heart. The blending of looser or tighter fibers accurately controls the amount of pressure exerted on the muscles in certain parts of the body covered by the compression pieces.
Right from reducing soreness of muscles and preventing muscle strains to increasing oxygenation and comfort, compression fabrics deliver a number of commendable benefits to boost your performance at the gym.
Kinds of Compression Fabric
There are primarily 4 types of materials that are used for tailoring compression wear and the percentage of these may vary according to the designer.
Nylon – Apart from lending compression t-shirts and tights a smooth finish, nylon makes compression clothes more sustainable and lightweight. Nylon also makes compression fabrics shrink-resistant. And as most compression fitnesswear are composed of 70% nylon, you can wear and wash them carefree without any worry about their shrinking.
Spandex – Compression clothes cannot be created without using spandex that gives the fabric proper stretchiness to function precisely to lend its advantages. Maximum compression wear includes 15 to 20% spandex that accounts for its compressed nature in the first place.
Cotton – Some compression apparel for men and women are woven with a little percentage of organic cotton fibers. The inclusion of cotton enhances the breathability and softness of the fabric, making the compression garment more comfortable to workout in.
Silicon – You'll notice that though compression clothes will stretch sufficiently as you move, they won't roll up or slip. And this non-slip characteristic is due to the mixture of silicon in the fabric for creating bands near the openings. Silicon acts like a non-sticky adhesive, allowing the bands to cause the material to stay attached to your skin, thereby, keeping the edges in position as you're carrying out exercise moves.
As a retailer, looking for quality compression wear, you must associate with one of the reckoned custom activewear manufacturers Europe. The vast compression clothing catalog provided by this workout wear manufacturing giant will enable you to bulk source high-performance compression apparel to assist your fitness-addict clients to workout like pros!
Relevant Blog:- The Reasons Why Compression Clothing is So Much in Demand Today