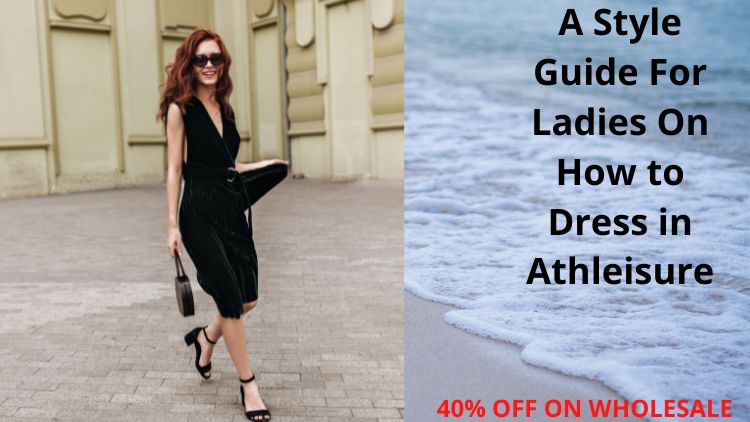 A Style Guide For Ladies On How to Dress in Athleisure
As far as fashion trends go, the transition of sportswear from gyms and fitness studios into general culture has been unmistakable. We live in a lycra world, whether we like it or not.
Our hurried lifestyles necessitate comfortable and functional clothing now more than ever. Of course, abandoning fashion is not an option, so how can we blend fashion with the utility to produce a stylish but entirely wearable look? Athleisure is the solution. Athleisure is blurring the barriers between what you'd wear to the gym and what you'd wear to lunch by transforming performance wear into daily wear. Therefore, whether you're off to the dancing class or out on the town, your wardrobe can now do it all. With no need to tote about a change of clothing or struggle in heels after a long day, it's no surprise that this burgeoning sector continues to grow.
What Exactly is Athleisure?
The term "athleisure" is currently defined in the dictionary as "casual apparel meant to be used both for exercise and for general usage." While this definition is legally valid, it is also a touch boring. The real beauty of athleisure is that it is both functional and fashionable. The easygoing and cool style combines sporty with ready-to-wear to produce smart and comfortable looks. More than a fad, athleisure signifies a shift in lifestyle, as it coincides with growing health consciousness, hectic schedules, and casual clothing norms. As a result, this effortlessly trendy clothing trend is going to stay, so now is the time to purchase.
Combine Function and Fashion
Mix function with fashion to get the athleisure aesthetic, both in terms of the athleisure pieces you purchase and how you incorporate them into your daily wardrobe. You may get a well-balanced style by combining fashion items such as heels, a leather jacket, or jeans with athletic items such as sweatpants, sneakers, or a sports bra from popular women activewear manufacturers. Similarly, by keeping an eye out for athleisure clothing that is both comfy and sports-inspired, as well as trendy and sophisticated, you'll ensure that you only invest in the greatest goods. High-performance fabric combined with an on-trend look is an excellent choice.
Dress Appropriately For The Occasion
Wearing your activewear out of the gym necessitates understanding when it is okay to wear it and when it is not. While athleisure isn't a look you'd want to wear to a wedding or a job interview, it's ideal for going out for lunch or after cocktails. As a general rule, the more formal the event or setting, the more trendy (ready-to-wear) your attire should be. Nevertheless, the more informal the event, the more utilitarian (activewear) you may dress.
Accessorize
Accessorize correctly to complete athleisure ensembles. Maintain a sleek, sporty atmosphere while adding a touch to your particular style. A fashionable bag, a baseball cap, or a pair of aviator sunglasses can all suffice. Don't forget about the jewelry. Jewelry will provide the right street style accent to your athleisure ensemble, but don't go overboard. All you need are a basic set of silver or gold hoop earrings or a slim chain necklace.
Athleisure Fashion Dos and Donts
Don't overdo it with patterns and loud colors.
Don't lose sight of your distinctive appearance and style; simply reinterpret it.
Don't forget to include jewelry and accessories.
Don't just put on whatever you'd wear to the gym.
Make certain that all of your athleisure items are clean and in good shape.
Mix high-performance sports textiles with stylish fabrics like leather and denim.
Keep an eye out for seasonal activewear trends.
Get imaginative, especially when it comes to mixing and stacking items.
To get a well-balanced style, include sportswear in your usual fashion collection.
How to Dress in Athleisure
For a simple and elegant athleisure style, pair a crop top with high-waisted leggings.
Mix an athletic T-shirt with tailored items or replace your blazer with a bomber jacket to sport athleisure to the office.
Pair leggings with longer tops or tie a shirt around your waist to make them more streetwear appropriate.
Slides and sneakers are your go-to footwear options.
Layer sportswear beneath traditional fashion items, such as leggings beneath a fashionable coat or a sports bra beneath a leather jacket.
Business owners and retailers if you revamp the activewear collection at your retail store, start by incorporating leggings for women from reputed leggings wholesale distributors, sports bras, and other essentials from a reliable manufacturer as well. Have a chat with the support team of the suppliers and spell out your bulk orders.
Audio Version:- Click Here