5 Ways To Get On With The Athleisure Trend in 2018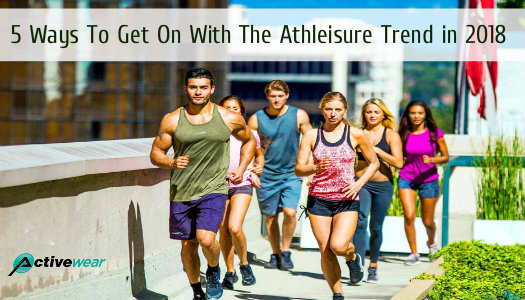 Just as everyone thought that the days of athleisure were over, the trend rose to prominence, this time with pieces that solidified their position in the circuit forever. We have come to develop a love-hate relationship with athleisure; when it is here, we criticize it. When gone, we complain about how wonderful it was.
With new pieces to boast, you ought to have these in your wardrobe. Whether you are a fitness enthusiast or a fashionista, these pieces are meant to satisfy both. Exclusive, functional and chic, the pieces have been summarized below. Keep reading to find out more.
Subtle slogans
Sometimes you just got to allow the clothes do the talking. But rather than picking an offensive slogan, go for something subtle. Simple yet intelligent quotes are always better than the loud ones. Not only can a slogan perfectly capture your mood, but it can convey so much. Cropped tank tops, baseball caps, and leggings are some of the most common apparels where the slogans are featured. For this particular trend, it is always better to stick to a monochromatic hue for heightened appeal.
Abstract geometry on leggings
Multi-patterned leggings which come in kaleidoscope designs are the perfect athleisure piece to invest in right now. Available with top private label fitness apparel manufacturer, the bright leggings are designed to give your athleisure appeal a boost. These leggings to further flatter the trend comes in body-fitting aesthetics, which means you can wear these no matter your body type. The abstract geometric patterns look quirky and when featured on dark backgrounds, find a way to cast a charm undeniable. Team these with a loose-fitting solid top to let the abstract stand out prominently.
Vibrant art
A new athleisure trend in the market that you would want to commit to for a long time is vibrant art. The concept is simple for it highlights the amalgamation of colors and patterns. Unlike abstract geometry patterns, this motif particularly focuses on putting together different prints like floral patterns, polka dots, and folk art. It is the vibrancy of the theme which adds to its overall appeal. From leggings to sports bras, all the latest gym apparels feature this particular motif. These are versatile and can be easily incorporated into any of your casual attire.
Mesh Panelling
There is something about mesh paneling that makes them different, so sought after. Earlier it was just a pair of leggings which would be highlighted with strategically placed mesh paneling, but now, paneling is available for all types of clothes like tank tops, sports bras, and even t-shirts. The idea is to promote breathability and let air circulate, keeping your body cool during an intense workout session. You can opt for different textures and luminous hues to give the overall appeal of the mesh paneling a boost. Since the mesh is a comfortable fabric that has its own functional advantages, you don't want to miss out on wearing these pieces this year.
Wrapped wears
It never hurts to have a piece in your wardrobe that is season-versatile. Well, before you get confused, it is about getting a piece that is a winter staple but is suited for warm weather too. A wrapper is actually adaptable and can be adjusted accordingly. As the manufacturers have incorporated these with different trendy designs, you will find many variations, for instance, the one which looks like a sweater with flowy sleeves or the one that looks like a scarf. Team a dark wrapper with a pair of comfortable leggings to give athleisure a new approach.
So what are you waiting for?
Acquire these apparels and make life (and working out) easier and better. Top activewear wholesale manufacturers have these displayed in their inventory. Retailers who are interested to make a bulk purchase can check out the websites for more information.