4 Yoga Pants Types And How To Wear Them Right!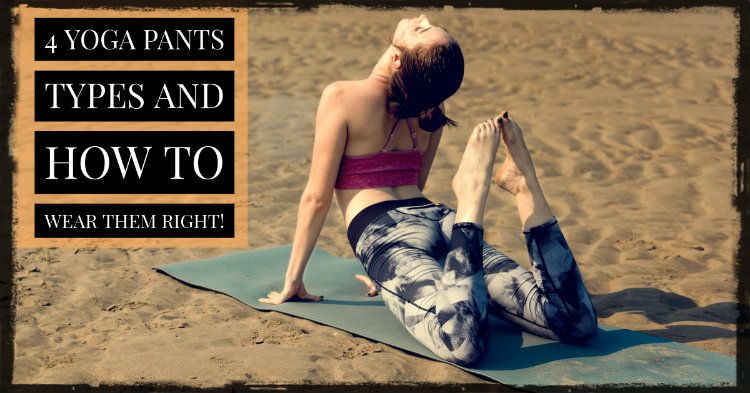 Yoga pants are not as simple an apparel as we think it to be and there are different variations in it that can and should be used diversely. If your yoga pants game is strong, your wardrobe will become a powerhouse of quality apparels at a much cheaper price. But how do you know which is which?
Well, we figured you might be a little confused and that is why we have the 4 yoga pant types – all of which are supposed to feature in different types of events. Want to find out?
1.Ankle Length Yoga Pants for your Office
The corporate yoga pants ends at the ankles and is a wonderful match for shirts and formal wear to go to the office in. Its length accentuates your formal look and your heels look great because of its slim and seamless end. Buying dark and neutral colors makes for a great option and helps you wear all of your shirts without much hassle of picking or choosing!
2.Disco Leggings for your Girls Night Out
If you decide to go clubbing with yoga pants on, then you have to do it in style – and what better option than to wear the disco yoga pants. This one looks quite retro and can be worn under crop tops and little black tops – whatever your choice of fashion allows. From heels to roman shoes, there is plenty of foot options as well.
3.Stirrup Yoga Pants for Dance Practice
Always dancing to the beats of life and cannot get enough of it? The stirrup yoga pant is a gift to you by your choice of fitness clothing manufacturer. Stirrup yoga pants come with a band at the end of the pants that go under your ankles and make sure that your leggings are never a hindrance to your act. With the stirrup yoga pant you can dance fearlessly and as much as you want – something that you have always dreamed of.
4.Knee Length Yoga Pants for Yoga and Workouts
And if you are fitness freak looking to get a solid workout in at any hour, then the knee length yoga pants are what you need in your wardrobe. They are well managed for ventilation and allow a certain breathability that is necessary for yoga or any gym workout. The fast dry technique and also helps you dry off really fast.
These are the 4 types of wholesale yoga pants that can used on different occasions. Having all 4 of them means that every top wear in your wardrobe will have a partner and you can get everything wrapped up and working at very low prices!