3 Things To Remember When Wearing Activewear Outside The Gym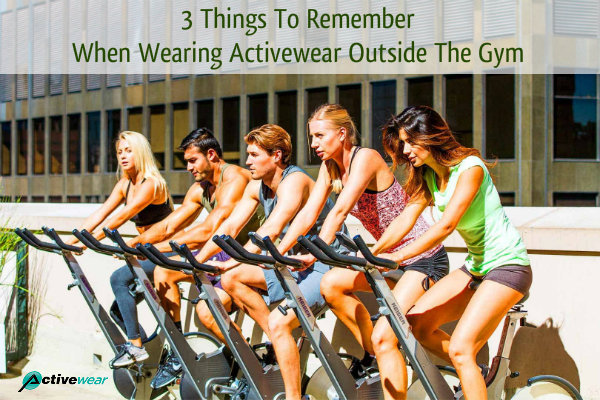 From USA to Australia, the wide number of people joining the fitness bandwagon is staggering. But with that has come the need of clothes which retort to both comfort and style, finding the balance. Many trends have also grazed the fashion scene which are not going anywhere for now at least.
Athleisure in particular has been doing great with the millennial. But when it comes to dressing appropriately, we always fall short. So how to cover that up without making any mistakes? To help you wear activewear outside the gym seamlessly, a list of three rules has been summarized. Follow them and you are golden.
Be Mindful of The Fit
This is an important aspect to consider which we often neglect. The fit of your cloth is pivotal! Too tight clothes will obstruct movement (even when you are walking) and look extremely uncomfortable. On the other hand, if you wear apparels that are loose, it will give your structure an unruly shape, nullifying all the hard work you put to get the abs. so wear clothes which help amplify your stature and add to your overall elegance.
Comfort is a State of Everywhere
We all know that when working out, being comfortable matters a lot. And clothes single-handedly take care of that criterion. However, when investing in wholesale activewear clothing you have to consider this fact as well. Make sure to opt for clothes which keep you at ease even when you wear them for a long period of time, regardless of the temperature and weather conditions.
Choose Your Outfits Wisely
If you are opting for a pair of leggings, team it with a sports bra or a t-shirt, depending on your choice. Throw over a jacket on top to maintain the general clothing decorum. Since you already know that fit plays a significantly pivotal role, you should know what to combine the particular piece with in order to create the right illusion or showoff the right amount of skin or just look gracefully presentable.
Thus, make sure to remember the given points in order to stand out in the crowd. With a number of popular manufacturers having assembled custom socks wholesale and other activewear apparels, interested retailers can make a bulk purchase by securing attractive discounts of the same.