3 Fitness Trends for The Gym to Absolutely Follow in 2018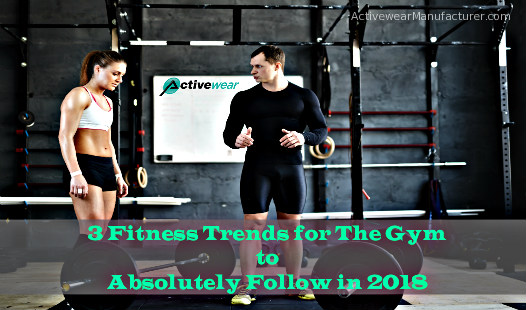 Tired of sweating it out in the gym? Want something more? Want something different? Then these top 3 fitness trends are what you need to try out before you feel like quitting. Keep reading to know about the individual trends.
Group training
There is a tone of fun in group training. The idea of fitness classes seems engaging enough to grab the attention of millennial. Five or more people with the same fitness goals perform with the same trainer- and that is the simple concept of group training. The kind of regimes followed can be endless. From yoga to cycling, boxing to simply jumping on the trampoline, group training classes offer it all. Group training tends to motivate people to perform better. It is a great way to push individuals to try harder. Many gym clothing manufacturers are also offering similar clothes to go that extra mile.
Personalized training for individuals
Personal training is not exclusive to 2018. It has always existed in the top trends of all fitness trends ever released. And this year is going to be no different. The only possible change made to the concept of personal training; now professional trainers will be available at fitness centers to help individuals attain their targets. You can pick any type of regime, like cardio or strength or even building body and the trainer will show you the right moves to help you prevent injuries. They also provide you with structures of the workout plan, the equipment required, the clothes you need to wear and also offer motivation to assist you to reach your health goal. The trainers stick with you till the end. You really don't want to miss out on this opportunity.
Training sessions for older people
You know what; elder people should also get the opportunity to become fit and healthy. They should get an opportunity to strengthen their bone and muscles. And it can only be achieved by adopting an active lifestyle. The current generation of older people has taken onto themselves to start working out in the gym. The regimes are tailored to suit their age and boost their health. Combination of yoga and cardio, free hand exercises along with strength training is seen regularly. Reputed wholesale activewear manufacturers have also crafted clothes suitable for them. Uber comfortable versions of t-shirts, shorts, and leggings have been introduced in the inventory that will keep them at ease while allowing them to move without feeling any restriction.
So if you are a fitness freak, these gym trends will definitely make you happy and healthy.
Activewear Retailers can buy the latest gym clothes which are designed to enhance performance and appearance can register with the private label fitness apparel manufacturers and purchase the clothes in bulk.