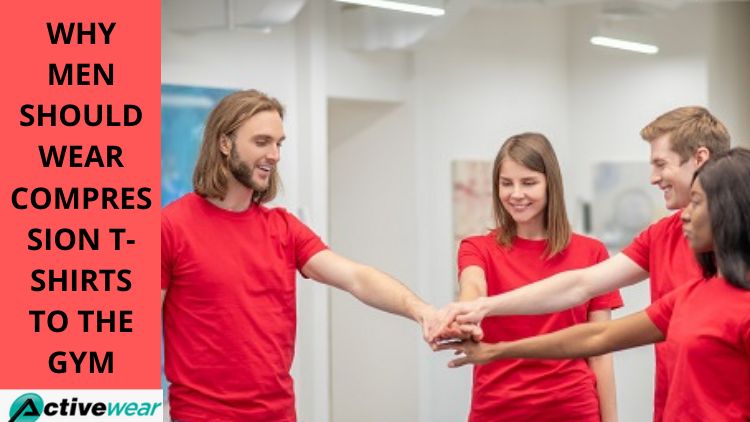 Why Men Should Wear Compression T-Shirts To The Gym
Looking for a cool athletic wear that supports your upper body? Then, you must include form-fitting compression t-shirts in your gym closet. These high-tech tees are generally made out of spandex fabric which gives this workout wear a light and stretchable quality. As a business owner, on the lookout for men's compression t-shirts, you should connect with one of the top-rated sportswear manufacturers UK with an expansive mens compression wear collection.
Let's Go into the Benefits of Wearing Compression Tees During Exercise.
1) Improves Blood Circulation
One of the main advantages of wearing a compression t-shirt as you engage in your exercise routine is that these athletic tees aid in regulating blood pressure on the upper region of your body. Such a supportive upper wear exerts appropriate pressure on your arms and torso to prevent you from feeling dizzy or distracted during an intense workout round. This type of t-shirt is especially useful for wearing during intensive workouts as it increases blood flow and accelerates the distribution of oxygenated blood to and from various organs.
2) Protects You From Injuries
Compression garments are functional in wicking off sweat from the body to provide comfort as well as shield you from injuries. Wearing compression tees during high-intensity workouts such as CrossFit training can reduce the risks of injuries and accidental hurts by promoting blood circulation on your body's upper part as well as preventing rashes, blisters and chafing.
3) Decreases Muscle Fatigue and Strain
Did you know that a compression t-shirt can help to reduce muscle soreness and strain after an exhaustive workout session? Going through strenuous physical exercise can make your muscles weak or achy. The technologically advanced crafting of compression tees makes them exceptional athletic garments to alleviate muscle soreness by exerting mild pressure onto your upper body.
4) Safeguards You From Cold
Want to carry out your routine exercises during winter without shivering in the freezing cold? Then, we say that you garb in a well-designed compression t-shirt as these body-hugging tees can keep you warm and cozy amidst chilly winter weather.
5) Enhances Gym Performance
Wearing the right fitnesswear can not only level up your physical stamina but also boost your confidence. High-performance compression tees that prevent injuries and keep you comfortable can be your number one choice to enable yourself to pay full attention on your workout to make your gymming experience productive.
If you're a retailer, interested to procure much in demand compression tees, be sure to collaborate with a promising activewear manufacturer Europe. The colossal fitness apparel collection of such a fitnesswear manufacturing unit is sure to house trendy compression tees, workout shorts, hoodies, yoga pants wholesale, sports bra, leggings and other breathable workout clothes for your fitness-crazy clients.
Audio Version:- Click On