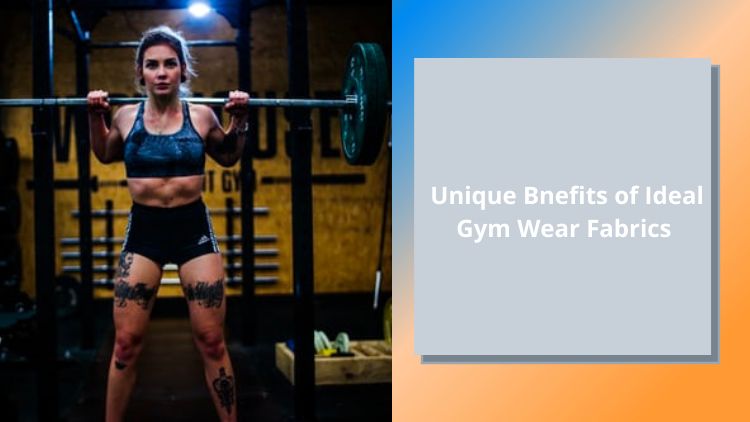 Unique Bnefits of Ideal Gym Wear Fabrics
Different types of sporting activities require specific type of clothing. For sports like football and basketball require clothing that is loose and comfortable. Whereas, activities such as biking or running requires clothing that will stick to your skin.
Therefore, the type of fabric you wear for the workout routine is important so that you can feel productive and don't end up injured as well. One of the popular fitness clothing manufacturer has come up with an assemblage you can have a look through. So, read on the blog below to know more!
Moisture Wicking and Breathability
When you work out, it is natural that you will sweat a lot. Hence you require to have appropriate clothing that can complement your workout activities. The first thing you should consider is wearing clothing that is sweat-wicking and breathable. The breathability of material is crucial as it allows air to flow in and out. The fabric prevents you from overheating so that you won't become stuffy or produce too much sweat.
Durability
Workout clothes are made to be durable. Workout activities can tear clothing easily if they are weak or of poor quality. Hence, manufacturers of gym wear usually include a percentage of Spandex or Elastane in their fabric combination. Performance clothing is durable and can stay for a long time before replacing, which is economical in the long run.
Comfort
Inappropriate clothing can adversely impact on your training. Imagine wearing a sports bra that is tight and keeps digging in your back while you work out? It can cause a lot of discomfort that will surely make you lose your focus as well as concentration. So, when choosing the appropriate fabric for your workout sessions, you must select a material that will make you as comfortable as possible.
Protection
Appropriate workout clothing can be valuable you while you work out in hostile weather. When you set to exercise outdoors, you can settle for workout clothing made of moisture-wicking and breathable fabrics to help the flow of weather inside and outside the cloth, that way you will remain not only dry but also fresh.
Flexibility
During your workout session, you desire clothing that will allow for flexibility. The clothes you choose and wear will affect your performance in the gym. Wearing clothing made from breathable and moisture-wicking fabric like bamboo, nylon or spandex will allow for air circulation making you fresh and comfortable.
Get in touch with one of the popular wholesale activewear vendors and communicate your requirements for custom activewear clothing pieces. Suppliers who are looking for trendy workout wear can state the fashion needs to the creative team so that the experts can curate the best apparel for the bulk needs.
Audio Version:- Unique Bnefits of Ideal Gym Wear Fabrics 
Direction:- https://goo.gl/maps/sZbRuy3gUpQ634v56