Understanding The 3 Reasons That Led To The Growth of The Athletic Apparel Industry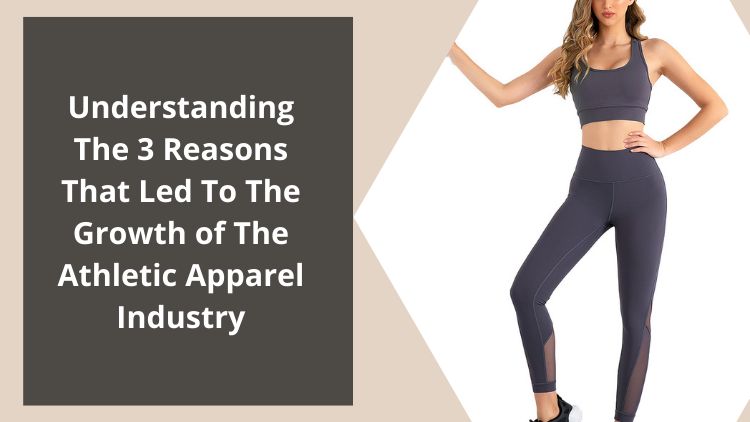 The growth of the athletic apparel industry is extremely massive. But summarizing it using a good number of words can only help you trace and understand the magnitude of this magnum opus. But what has led to this staggering growth?
Reason no 1: Increase in The Disposable Income
Before getting into details about what exactly disposable income is, let us look understand what exactly disposable income means. In simple terms, annual disposable income means the amount of money an individual can spend and save after the taxes are paid. According to surveys, the spending propensity of the consumers has increased considerably over the last few years. This has encouraged people to invest in quality clothes and not just settle for anything that didn't satisfy their need. Hence, it can be concluded that increase in disposable income has led to increasing the business of the fitness apparels.
Reason no 2: Growth in The Numbers
The fitness bandwagon has grown significantly as well. More and more people are becoming conscious about leading a healthy lifestyle in order to deal with work-related stress issues. Different fitness regimes like running and yoga have come into the spotlight. The need to satisfy the want of the customers by providing them workout worthy clothes has pushed private label fitness apparel manufacturers to design clothes that retort to the essentials of the individual regime. This also can be considered as a contributing factor in the growth of the fitness-fashion industry.
Reason no 3: Increased Amalgamation of Fitness and Fashion
Talking about the fitness-fashion industry, it goes without saying how important this particular trend has been in motivating the growth of the fitness apparels. Gym clothes existed earlier in the form of old t-shirts and tattered pants. But that endearing moment when the enthusiasts started experimenting with style and incorporated them with the activewear, the growth was significant. People no longer had to worry about giving up either comfort or style. They could get everything in one.
All of these factors have played a major role the development of the fitness clothing industry. With more and more manufacturers joining the circuit, quality products at cheap prices are available. This has paved their way into the circuit, forming much competition for the big names.
Many private label fitness apparel manufacturers offer facilities like customization of the clothes, which has influenced people to flock to them. Retailers who are looking to make a bulk purchase without having to spend a surreal amount can look up to these suppliers/manufacturers as well. discounts and variety in products all have led to their popularity and growth.
Direction:  https://goo.gl/maps/sZbRuy3gUpQ634v56