Tips on How to Choose the Perfect Blank Clothing Manufacturer!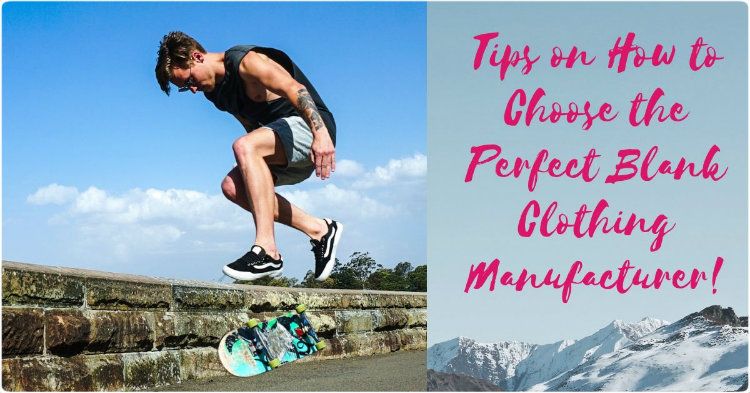 Blank clothing is the perfect slate to an artist's creativity and it is one of the main reasons why many retailers and private label owners blank fitness apparel. The principle of the matter is more than simple – it comes in colors and no prints at all, which is perfect for any kind of customization the person deems fit. However, the perfect blank clothing doesn't just exist at your pleasure and one must take time and effort to select their best bet at what comes close to impeccable. To make that process easier, this blog lists out some tips that will help people in the retail and private label business do better when it comes to picking out a blank clothing manufacturer!
Find out the materials manufacturers use
When it comes to blank active or fitness wear, material plays a key role in performing the necessary qualities of sportswear like sweat absorption, stretch ability, functionality, etc. Therefore, it is important that as a retailer or private label manufacturer, you look into the kind of material and yarn they are using for the garments. Go for synthetic fibres, and get microfibers if you can get them. That will definitely top the functionality part.
Are those materials good for the print you have in mind?
Whether you choose sublimated prints or otherwise, a retailer or private label entrepreneur must know if the quality of the material will resonate well with the kind of print. If it doesn't then your customers might get cracked prints within a few months and that is not going to be good for your business, no matter what the case. So, get an expert opinion on the fabric thing before you order your garments in bulk from manufacturers.
Is there plenty of variation?
The thing about blank fitness clothing is that they don't have prints. So, the only kind of variation that you get is in the design aspect. This is why you should look into the matter and check out all of their different designs in the blank category. Do they have baseball shirts, basketball jerseys, gym vests, compression wear, etc. all in blank neutral colors? If yes, then that manufacturer is definitely good for you!
How high is their minimum order quantity?
Minimum order quantity will always have to be taken in consideration if you do not want to run losses. It is always better to have small bulk orders sell out during the first time rather than pulling in huge quantity and then having to give a clearance sale. Keeping that in mind, always go for manufacturers that take low orders as well and then build up your base. Big losses at the very beginning of business can get you demotivated enough to quit.
Blank Clothing Categories
When picking out manufacturers, categories are extremely important and shape your will to order from there or not. The producer should have blank clothing for men, women, children, and plus size; that way, your customized clothes will be able to appeal to all your customers and you will not be losing out of business, just because they did not find the perfect fit. So, don't let anyone tell you otherwise and check it out beforehand.
Follow these tips closely when looking for a private label fitness apparel manufacturer to supply you with the perfect blank clothing collection for your retail and private label customizations. Remember, sales happen only when you have the right things to offer with the right options to choose from.