Sports Bra v/s Everyday Bra: What You Need To Know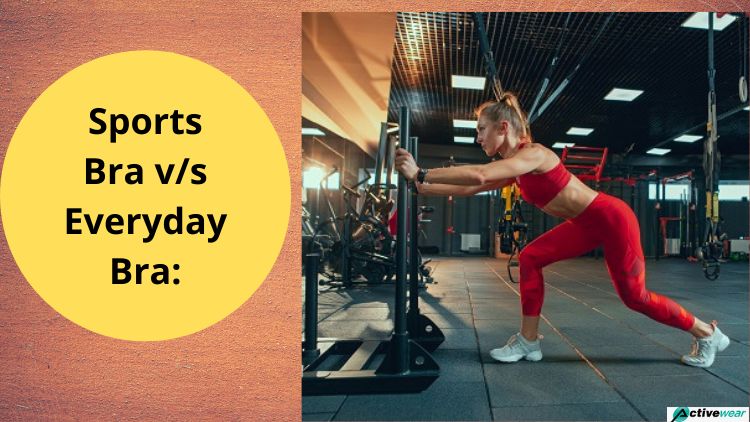 Sports bras have helped many ladiesto enjoy a fit life without facing any issues.Be it Zumba or running, without a good sports bra is a big NO. Some women in fact wear them on a casual day outing too!Few going for the everyday traditional bra, it's because, either they haven't got hold of the perfect sports bra ever, or they don't have an idea about the benefits of a sports bra over the conventional ones.
One of the most preeminent sportswear companies in USA comes with a great assemblage of attractive, comfortable sports bras!
Curious to know how a sports bra is better than a normal bra? Go through the following points!
Fashionable and Trendy
As hinted before, sports bras are so relaxing and comfortable that many women have now adopted them as daily casual wear!Partner them with your favorite joggers and sneakers and you are all set to rock the cool streetwear look!It's impossible to do the same with the normal bra of course.If you want then you can also wear sports bras while running errands for your mother or can simply chill in them at home! They are both comfortable and fashionable.
No Question of Embarrassment
Ditching your sports training lately becauseof the excessive breast jiggles and bounces? The credit must go to your conventional everyday bra. What you need is a great sports bra to get rid of those awkward stares. The correct sports bra saves you from all the embarrassment by controlling the bounces effectively. Not only for sports, whether you are walking, running, or engaged in CrossFit,a sports bra will take care of your assets, holding them in place.
Protects Your Breast Wall
During any heavy sports activity, you are at risk of breast ligament tear which can cause a great deal of discomfort and pain. A nice sports bra not just keeps your busts in place but also protects your bust wall, whereas a conventional bra fails as they are not constructed to control movement during exercise. Also, the straps of a normal bra aren't sturdy enough to hold your assets firmly. The right sports bra eliminates the chance of any sort of discomfort and you can smoothly continue your active lifestyle.
Next time you go shopping for your bra, remember all these points stated above, as still going for the normal ones, you might be doing more harm to your body than anything good.
Being a retailer eager to obtain classy bulk athletic apparel, you should hurry and reach out to a sought-after fitness clothing manufacturer!
Audio Version:- Sports Bra v/s Everyday Bra: What You Need To Know