Noteworthy Health Benefits of Working Out in Appropriate Activewear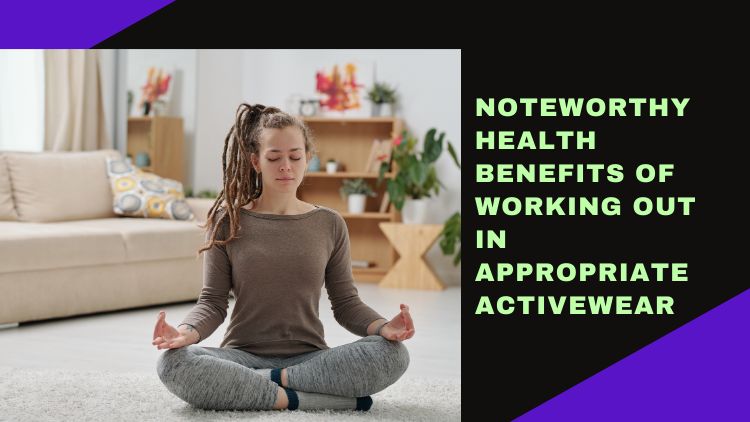 The diverse range of activewear in recent years is fascinating to many. But for making the right selection, fabric quality and moisture –wicking potential plays a major role. Next time you are out for activewear shopping, make sure you purchase what's best in terms of comfort first. If you are a private label business owner, connect with one of the eminent private label sportswear manufacturers to stack up your activewear collection.
Impact On Skin
It is universally acknowledged that workout has a huge benefit on your mental and physical well-being. And, during exercise, we sweat. But too much sweat during a high-intensity workout can get quite suffocating. To prevent the excess sweating, a moisture-wicking activewear can come to aid.
Sweat, if allowed to stay on your skin can cause irritation and inflammation. So, if you choose an activewear composed of light and breathable material that thoroughly absorbs sweat, you can remain cool and focussed during and after your workout.
Positive Impact of Sports Bras
Whatever be your exercise type, sports bras are an essential gear for all fitness-conscious women. Wearing a bra that doesn't support you can make your breasts achy, uncomfortable and painful, especially during a high-impact exercise.
Due to the revolutionary updating of women's activewear, new sports bras that are equally protective and comfy have been designed using modern technology. The right choice in sports bras is also an essential gym-kit to keep your breasts in shape. Their excess movement during running can cause irreparable damage to the ligaments and skin tissues and thus, affect their shape. An efficiently designed sports bra can support your breasts properly and protect them from sagging.
Performance Booster
Whether you are running, swimming or lifting, the right fitness apparel can improve your exercise technique and enhance your performance. Compression wear like leggings, socks and sleeves increases your athletic performance. This is due to an increase in blood flow, which stimulates oxygenation in the muscles to help them function better.
Apart from boosting your performance, well-designed compression wear also prevents chafing and rashes. Besides removing discomfort and distraction, compression wear also relieves post-exercise weakness by reducing muscle vibrations.
Thus, eco-friendly and scientifically designed activewear can keep you protected, supported and comfortable during exercising. Accelerating your agility, this functional and innovative gym apparel that can stabilize your muscles must be made a wardrobe essential. These can keep your rigorous workout regime energetic and hygienic and your overall health in top form.
If you are a business owner wishing to make your activewear supply wow-worthy, contact an established activewear manufacturer. Their catalog will likely include womens fitness wear, mens fitness wear, compression clothing wholesale, kids workout gear and more.
Audio Version:- Click Here
Direction:  https://goo.gl/maps/sZbRuy3gUpQ634v56