Is It Essential To Wear The Right Athletic Apparel?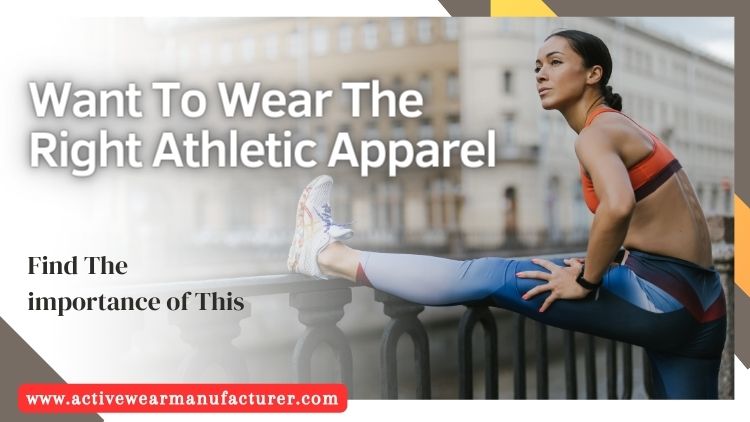 Hitting the gym, have you always been like "any random clothes would do, no need to put any extra effort for just working out""
Remember, just like how picking the right outfit for work and parties is important, similarly, going for the right clothing for a sweat-out is crucial as well. When you wear the perfect athletic apparel for exercise, this happens:
Right Athletic Apparel Offers The Ultimate Durability
Be it going to the gym or attending regular sports training, any sort of athletic activity involves a lot of stretching, bumping, and falling. If you wear normal clothes then know this; different kinds of vigorous exercises and training can destroy them in no time and you would have to go on spending money for replacements. The right athletic clothing from only the most dependable among the athletic apparel manufacturers, which are made up of quality materials and fabrics, would last for a long time as they are specially designed to withstand intense workouts.
Appropriate Athletic Apparel Increases Your Confidence
When you wear the right athletic clothes, they motivate you and help you achieve all your targets. Do you know, around 78% of people who decided to make an effort and go for the right athletic garments have been successful in achieving all their targets? According to a popular phenomenon, the right apparel can activate psychological changes and influence confidence levels and performance favorably. Moreover, when you look good, you feel more confident, and it helps you to work even harder. If you go for the wrong ones or regular clothing, you might feel self-conscious and distracted, which can have a negative impact on your confidence level.
Right Clothing Lessens The Risk Of Injury
Good-quality compression-based athletic clothing protects the muscles from injuries as well as inflammation. They deliver much-needed oxygen to the working muscles and increase blood flow to the heart. As a result, it lessens soreness and fatigue by controlling lactic acid accumulation, and thus, you are able to achieve an effortless workout with the right clothing.
Appropriate Clothing Provides The Best Comfort
Inappropriate apparel can cause a lot of discomfort when you are testing skills at sports or working out. While extremely-tight clothes can hinder your movement, restricting blood circulation, loose, ill-fitting pieces can come your way. So, going for the right size is a must. And breathable fabric that wicks away moisture and keeps you cool and dry can make a lot of difference in how you feel.
Being a business owner in search of fine-quality, voguish, comfortable clothing items, without waiting a minute more, start bulk shopping from one of the biggest european wholesale clothing suppliers today! The catalog produced by such a supplier is huge and impressive! Download it now!
Relevant Blog: How To Shop For Athleisure