Here's How To Make Your Wholesale Yoga Pants For Fun!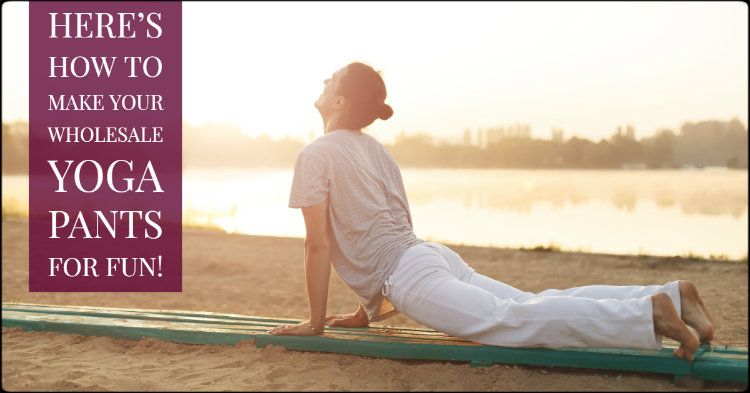 If you are a yoga pant seller who is thinking of new strategies to make a difference, then you need to think differently. Yoga pants today have become a lot more variant and that is one of the main reasons why you should provide more options.
In this blog, we are going to take a look at some of the best designs for wholesale yoga pants that you can include in your collection. Ready to know more? Let's find out now!
Make little buddha prints
Want your leggings to look and feel good? Then the little buddha prints is what you need to get the job done. This print will look great on almost all shades; the only thing that you need to maintain is the contrast – and the rest of it will work itself out.
There are a million variations of the little buddha and you could go just for the head, or take a more driven approach to have a whole miniature buddha in place.
Whatever the choice maybe, this one is going to make a lasting impression on your customers.
Crystallized yoga pant prints
The latest yoga pants printing trend on the block is the crystallized yoga prints and it is going to make your sales super easy. Available in various colors, it is an abstract design that resembles the crystallization of the shade.
Often, this design is bordered by solid colors and a certain continuity is maintained between the crystals and the color (showing the transformation vividly). It is a good design for almost any color, and you a dominant white is present in the crystal design part.
Refreshing to say the very least, these are the kind of variation you need to get people interested in your yoga pants collection.
The heart shaped booty yoga print
A design specifically put in place for people who are in love with their rear, this one is a bit on the bold and quirky side. The heart shape encompasses the butt and comes in a contrasting color compared to the rest of the leggings.
You could go for the eternal red heart, but if you want some quirky fun with less tackiness, then you can select a grey heart with black leggings. Whatever your pick is, this design is sure to grab some attention!
Now that you have a fair idea of what kind of yoga pants designs by activewear manufacturers is making a mark, what are you waiting for? Get in touch with one immediately and make sure that you have plenty of variety in your collection.
And when your sales graph seems to make the rise, you can let us know how thankful you are!