Four Reasons How Good Quality Clothes Ensures High Performance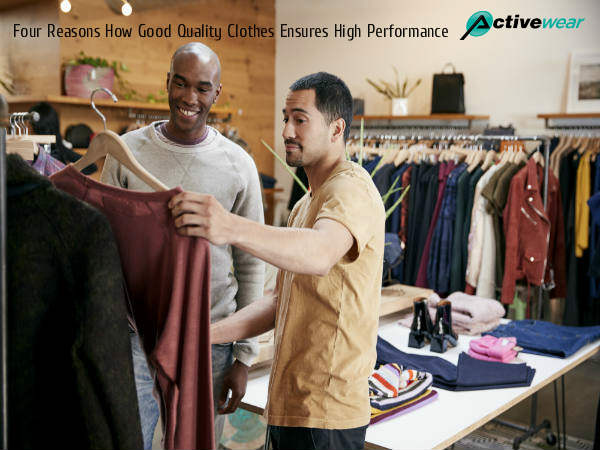 Have you ever thought that what you wear can have a great impact on your performance, especially in the athletic sphere of your life? Investing in good quality clothes can improve your overall physical performance as well no matter which field of activities you relate to. For instance, if you're participating in a marathon but not in the best of clothes, the chances are that you might not feel that amped up about the whole event. This blog lists four reasons why you should buy good quality athletic clothes so that you can perform well.
Boosts confidence
A detailed study has gone into the making of this theory. The activewear clothing we wear affects us psychologically thereby impacting our physical actions. In fact research in the field of cognition have also shown the positive influence of wearing the right clothes for our workplace. The boost could be an increase in confidence and chances are that you will act it out, too. Similarly, if you wear proper clothes to an athletic event like a marathon, chances are that you might come out accomplishing something for yourself.
Adds protection and prevents injuries
There is a major chance that using an improper fitted gear can cause of sports-related injuries that can interfere with your activity. You may want a cap to cover your head and protect your face. You need protection when you're out running but also have something that's long sleeved. That way you don't have to apply sunscreen that clogs up the pores on your skin. You might want to use gloves to protect your hands. Shoes that are not the right size causes blisters, cramps and slipping that will ultimately slow you down. High-tops should be used for protection of weak ankles. Good sports shoes also cushion the foot from heavy landings thereby lessening the impact on your steps.
Freedom of movement
In an attempt to get the best deal people often buy the wrong clothing just because it's cheap. Freedom of movement is very important in an activewear. A tight bottom wear can restrict your movement. Make sure your shorts don't ride up or slip down when you jump because it might get really embarrassing. If you are wearing a cap – make sure it's not too tight around your head but also ensure it won't fall off or slip.
Aids in fast recovery of injuries
Compression athletic clothing are really important as it retains the proper blood flow to and fro from the muscles. The increased blood flowing through muscles removes the lactic acid produced during exercise hence reducing inflammation. Recovery is boosted as a result and muscles are less sore and stiff. Compression in athletic clothing has not shown any negative effects on the human body therefore, it is a wise option to invest in compression clothing.
If you're a retailer and specialize in marathon clothes then you can check out the catalogs of athletic clothing wholesalers to add to your stock.