Dos and Don'ts of Athleisure Fashion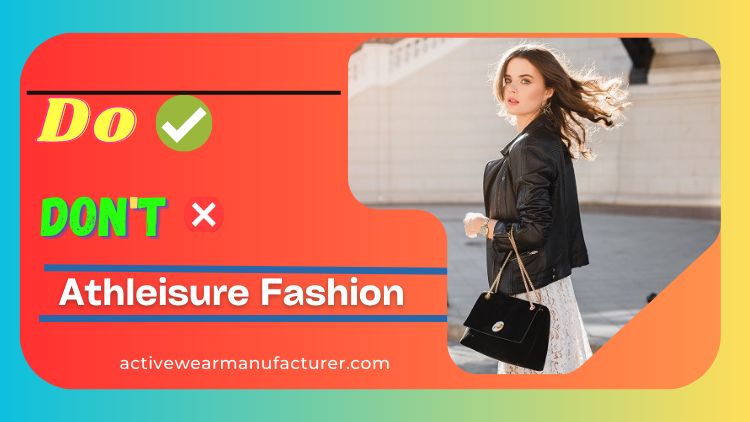 Versatile, colorful, casual, trendy, and comfortable— well, these are the words you can associate with athleisure. And yes people, with athleisure clothing manufacturers bringing an eye-popping variety, the trend is here to stay for a long, long time!
Those of you into it will be already happy to know this. After all, there's nothing wrong with feeling comfortable while yet remaining stylish the whole day.
However, there are certain dos and don'ts that you need to remember if you want to pull off the athleisure fashion like a pro. Check out the list given below:
Do try Black Leggings That Can Go With Anything
To many, black women's fitness leggings are just ideal. And, if you think about it, they go with almost everything, giving a snug fit to every single body shape. They can be dressed down or dressed up with convenience. Above all, these leggings are amazingly versatile. You can pair them up with any clothing item you want!
Do go For Those Items that Enhance Your Most Attractive Body Part
Have sexy arms? Wear a cute women's tank top for your next trip to the grocery store. Got nice elongated legs? Throw on a pair of comfortable shorts. Proud of your perfect butt? Don a splendid pair of fitness leggings that highlights your asset more. Flattering and comfortable athletic clothing is capable of doing many things.
Do Try Different athleisure styles
What looks great on your neighbor might not work well on you. Why get inspired by someone else's style when there are so many athletic clothing pieces for you to try? It's highly recommended that you play around with various styles to see what looks the best on you. You will surely find something you love.
Don't Go For Anything Thats Too Baggy
According to most style experts, clothing that's too loose looks messy, sloppy, and worse, very weird on the wrong body type. Giant tees, baggy sweatpants, and huge sweatshirts are not always good for everyone. Consider going for 'fitted comfort' in your athleisure designs. Products such as a flattering hoodie in a cool, vibrant color, slim joggers, etc will speak about your style and confidence no matter where you go.
Don't Copy Your Favorite Celeb's Style at the Expense of Your Own Comfort
Yes, celebs do rock sweats with high heels but that doesn't mean you need to try the same as well, especially if you are a lady who is not really into those 5-6 inches high heels. If you are planning to go somewhere in joggers or sweats and want to show off your style, then you can think about trying cute sneakers.
Being a retailer in search of quality wholesale athletic apparel to add to your store, hurry and start bulk shopping from one of the most renowned fitness clothing manufacturers now! Such a supplier offers unbelievable discounts on bulk orders!