5 Tips to Keep Your Activewear Collection Marathon-Ready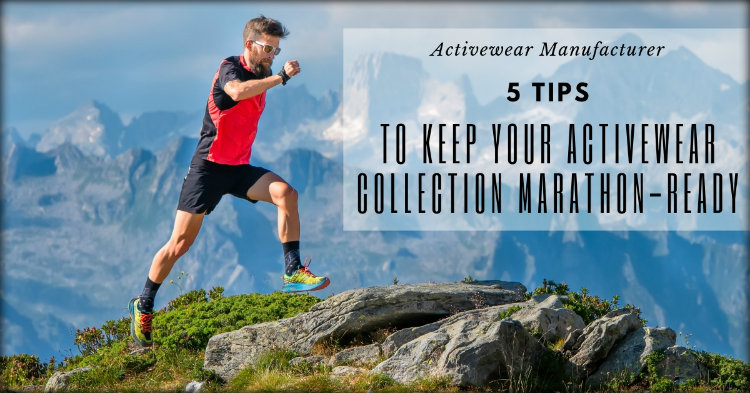 More people are running in marathons today. As of 2016, there were 713 marathons in the USA. Yes, on average, that's more than 2 races per day in a year. Insane, right? If you're a clothing business owner, this is a great opportunity to tap on a fast-growing market. Many activewear manufacturers are already in the game. The wait's for the retailers. Jump in the scene, get your warehouse marathon-ready. Follow these 5 simple tips:
Focus both on women and men
Decades back, marathons used to be packed with male runners. Not today! Today, excited women are jamming the streets in an equal number. So, unless your business primarily focuses on one gender, target both women and men with your activewear collection. Buy wholesale yoga pants or running tights in just as much quantity as men's tanks and outwears.
NEVER compromise on quality
This goes without saying. When running, people want the utmost comfort. They want good quality fabrics that are good in wicking moisture. It must also have good ventilation that facilitates air circulation, making the runners feel fresh and relaxed for longer. In short, find one of the top activewear manufacturers and purchase superior quality wholesale. Nothing less.
Don't worry about the price
This is one of the markets that aren't very centric to price. So, when bulking your high-quality wholesale, don't focus too much on the price. The serious marathon runners look for quality and performance atop over anything else. They don't mind spending a bit more on their purchase.
Prioritize style just as much
It's no secret that fashion has made a big splash in the fitness wear niche. However, when wholesaling apparels for a marathon, you've got to be more careful. People want to run comfortably and finish the race. At the same time, they also want to appear good. More so the young runners who are more focused on their looks. They've got to keep their Insta-game solid!
Segment your collection for different races
This is especially for clothing businesses who focus entirely on fitness niche. There are many different kinds of the marathons — from 10km to ultramarathon. Each of these races have their own unique needs and requirements in terms of quality and performance they demand from the running clothes. So, if you're really serious about targeting the marathon runners, segment your collection to adequately serve different kinds of marathons. You will become an ultimate hotspot for the best marathon clothing in the town.
These are 5 tips to keep your activewear wholesale clothing marathon-ready. Find a good activewear manufacturer today.