3 Factors Affecting The Fitness Clothing Global Market Scenario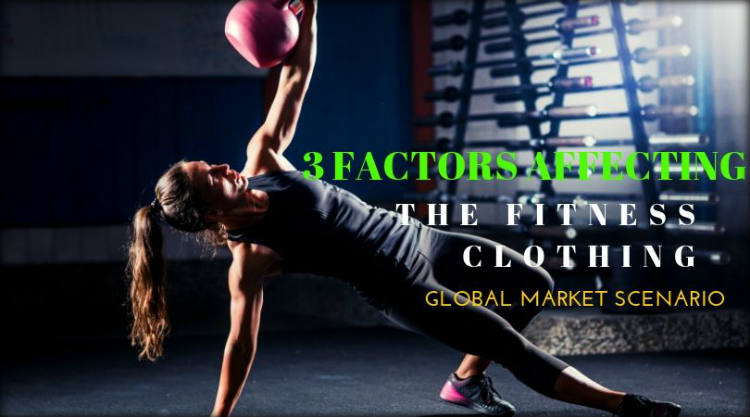 We all are aware of the fact that fitness clothing has become a multi-billion business over the last few years. Analysts expect it to reach a new milestone by 2020 with almost $184.6 billion predictable income. But what caused this massive surge? Let us take a look at it by understanding three such factors that have contributed much to the growth.
Increase in The Disposable Income
It is a simple calculation- the purchase capacity of consumers have increased over the years and this has further aided their ability to buy clothes which are luxurious and contented. They want to invest in comfortable clothes that will help them perform better in the gym. This has led to the increase in the demand for good clothes. Thus, escalation in the disposable income of the consumers has played a major role in pushing the activewear market globally.
Increase in Fitness Conscious Consumer
With more and more millennial joining the fitness bandwagon, the demand for clothes has also gone up. A plethora of regimes which include everything from working out in the gym, running, walking, swimming, aerobics and of course yoga, the number of people flocking to the nearest gym to workout is not surprising at all. Moreover, these regimes come for everyone; they are exclusive to age and gender. Hence, the high participation level.
Changing Time and Changing Designs
The amalgamation of fitness and fashion industries has proved to be quite advantageous for all. Not only do the consumers have more options to choose from, but they get trendy and stylish clothes. The activewear manufacturers Australia are mindful of the fact that blending comfort and style, functionality and fashion give them an upper hand in the competitive market. So new clothes are being introduced or significant changes are being familiarized with the old items, which have truly stunning results.
Thus, it is easily comprehensible that all the three factors combined together have resulted in the massive growth that the fitness clothing industry. However, it is still growing and is yet to reach its pinnacle. But it surely will in the near future. Retailers who want to make a bulk purchase of the activewear and participate in this gigantic race can do so by registering with the top activewear manufacturers Australia.