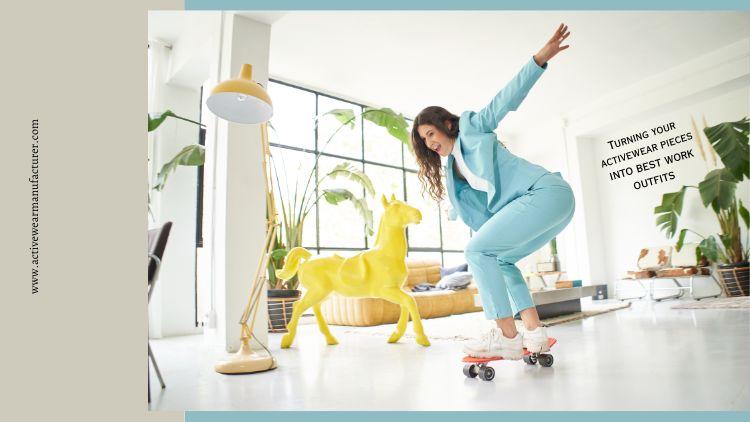 Turning Your Activewear Pieces Into Best Work Outfits: Here is How
Most employees all around the world would love the idea if the company allows them to wear relaxed, comfortable pieces and gets rid of boring, formal work suits. Though several organizations do give some liberty, there are some who are strict about the dress code.
Now you might think or wish ''Can I wear activewear someday to my office?'' or, ''I wish I could wear my favorite activewear pieces to work today''. The good news is, of course, you can. You just need to be careful and creative enough to make it workplace-appropriate.
Tips and Suggestions on Styling Activewear to Work
You can use your short-sleeve women's tees that you usually reserve for yoga or jogging to create wonderful work attire. For instance, pattern tees can make awesome layering pieces beneath blazers or sweaters, all the while cooly breaking the simplicity of solid colors. If you want to make it a little dressier then just add a statement necklace or a string of pearls. To get a more sophisticated appearance, always pair them with a pencil skirt. A distinguished activewear manufacturer usa brings forward a mammoth inventory of never-seen-before, high-quality, comfortable women's fitness tees!
You will agree that there is nothing like joggers when it comes to breaking a sweat in style. There is something different about these eye-appealing tapered pants. However, did you know that you can also wear them to your office? Yes, it's possible! Joggers are available in different materials, and a pair of silky joggers can look elegant enough for the office if you know how to wear it. You can also wear one in a matte jersey fabric. Remember, the color should be neutral. On a casual Friday, partner them with a jewel-toned tee and throw on a cardigan on top, or tuck in a polished blouse and complete your look with a blazer.
Caring about the details can make a workout bottom or top more office-appropriate. First, stick to shades such as red, gray, or black as they can neatly fit into your work environment. Next, consider specific details that can give them a more sophisticated appearance. For instance, a top with ruching at the waistline can make an amazing alternative to a crisp white shirt. As for the bottom wear, complete your look with wide-legged trousers as it will allow you to flaunt your top's flattering shape to the fullest. Cowl necks are also great for the office. You can style one with a structured blazer.
Business owners and retailers interested to add voguish, top-quality, practical bulk fitness clothing pieces to your store, hurry and make a wholesale purchase from one of the most illustrious activewear clothing manufacturers brisbane! Such a supplier brings workout shorts, sweats, yoga pants, and more in eye-popping styles and designs!