Activewear Guide For Plus Size Women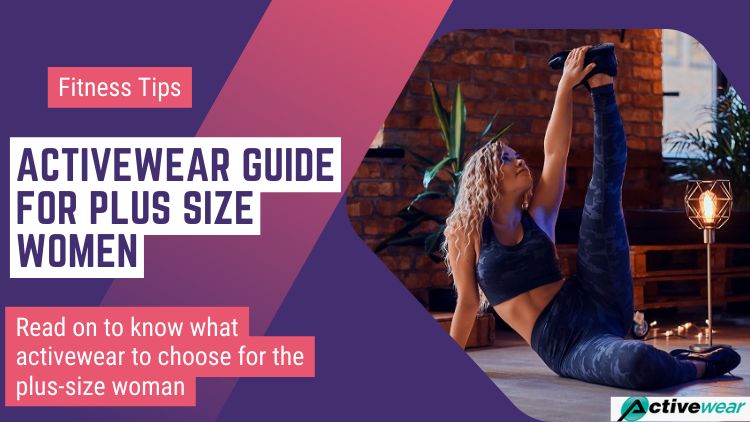 Signing up to work out at the gym is a daunting task for anybody, but more so if you are a plus-size woman. We get that! You might be wondering what people might think. You might even be worrying that people might judge you or pass snide comments about your every move or worse, you might be worried about being body shamed.
However, you forget one thing. It is so brave of you to even think about going to the gym. That is half the battle won! Plus, most of the people at the gym are focused on their personal development and will hardly give you a cursory glance. Yes, some people do like to socialize at the gym, but they are hardly judgmental about others. So, pick up your sorry self, haul it to the gym and amaze yourself with what you got!
However, before you go, make sure you wear the right activewear that will let you enjoy your workout and help you breeze through it in comfort. Additionally, to help you with the right activewear, we penned down this handy guide, where we tell you all the things you should keep in mind when choosing your activewear as a plus-size woman going to the gym.
If you are a retailer or a private label business owner looking for a sports clothing manufacturers UK make sure you choose one that not only specializes in sportswear but also has a large selection of activewear in their catalog. Why? Since fitness trends are on the rise and everyone wants to go to the gym and work out, you should bank on the trend and bulk order a collection of activewear for your store. However, make sure you addplus-size styles too, becausethe averagedress sizeof women,these days, is between 12-16. That is technically plus size. So, stocking up ona wider size range will help you cater to a large customer base, who will be delighted to get incredible styles in large sizes too!
Keep Reading To Know All The Things You Should Keep in Mind When Picking Plus Size Activewear For Women.
Bottoms
When it comes to choosing bottoms for plus-sized bodies, you can pick some stylish capris. These offer ease and comfort at the same time. You can also choose compression wear since they offer extra support. However, make sure you size up to keep it comfortable.
For any kind of bottoms, always choose activewear made of breathable materials that prevent your body from getting overheated. Pick materials that spring back after a wash so that they can continue giving you support. Additionally, make sure you choose moisture-wicking and fast-drying fabrics to keep body odor at bay and keep you cool throughout the workout.
Sports Bras
This is the most important piece of activewear for any woman at the gym, but more so for plus-size women. You don't want to feel uncomfortable during the workout because your girlies are moving too much or you are feeling pain and discomfort. Not wearing a well-supported sports bra might cause tissue damage, sagging, and drooping. Things we are sure you do not want.
So, invest in comfortable, moisture-wicking, and supportive bras that are well structured and keep your girlies in place. Sweat-wicking fabrics will also prevent chaffing and any nasty body acne.Choose from a range of bras depending on whether you opt for low-intensity or high-intensity workouts.
Vests or T-shirts
Gym vests are quite comfortable as top wear over your sports bra. You can opt for racer backs or go with halter necks. However, if you are not quite comfortable flaunting your arms, go for gym t-shirts. Pick oversized t-shirts that give you plenty of room to breathe and let you enjoy a comfortable session at the gym.
Make sure you opt for colors and look for ones in premium-quality sweat-wicking fabrics that hold their shape. Remember to check for durable ones that can withstand regular washing.
When you are a business owner looking for a reputed private label wholesale activewear supplier, to place a bulk order of plus size activewear wholesale, make sure you browse the weband look for one who has a large catalog, comprising several styles of plus size activewear in various colors and premium-quality fabrics. This will help you build a large collection that your customers will love and adore.Make sure you contact their helpdesk if you have any queries or have any special customization requests for your brand. Afterward, place your bulk orders with them.
Additionally, we hope, this read will help you, with all the things you should remember when picking the right plus-size activewear.